Mono Joins Possehl Digital!
Mono is joining forces with the industry giant, the Possehl Group, crowning the year of our 20th anniversary.
A month after celebrating our 20th anniversary, we have even more amazing news to share.
Mono has partnered with the German Possehl Group!
What precisely is this strategic partnership, what does it mean for Mono, how will we continue to work with the Possehl Group and their digital inovator, Possehl Digital, and who even is Possehl? Let's clear it all up.
Possehl – The Entrepreneur's Group
In the year in which we celebrate our twentieth, Possehl celebrates its 175th anniversary.
Possehl is a globally active technology group with more than 13,200 employees and 200 companies in about 30 countries from around the world. In the previous year, they have successfully generated roughly 5.5 billion euros in consolidated revenues.
The Group works through ten business divisions, each of which functions on its own and independently of the others. What is characteristic of Possehl is that they work in a decentralized manner, meaning that each of the companies that are a part of the Group make their own decisions in accordance with their respective markets - which is extremely significant for Mono.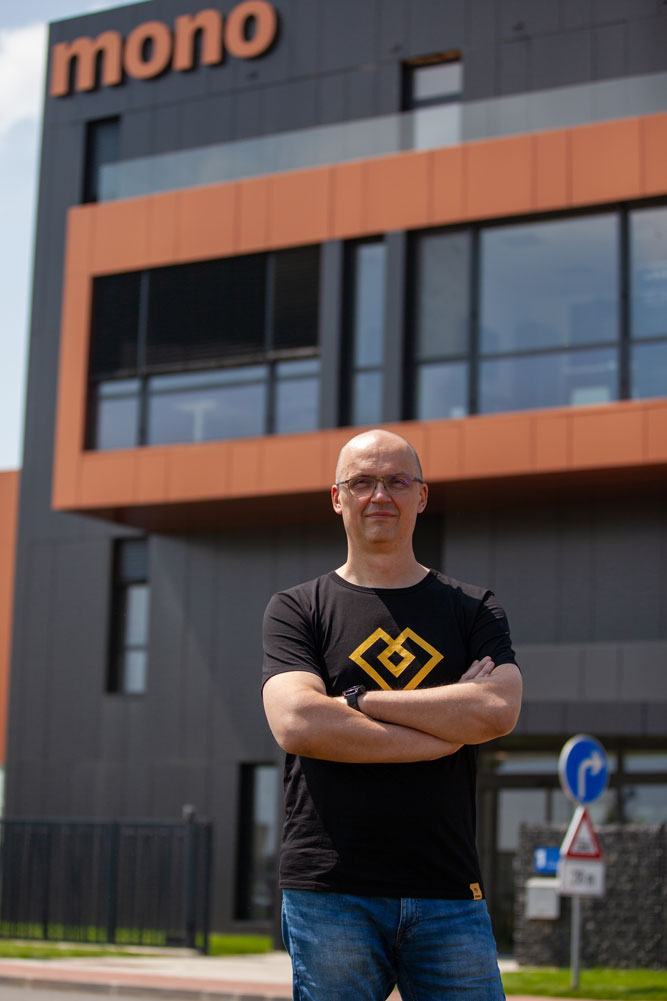 Denis Sušac, Mono's CEO
"The way in which Possehl works, allowing for complete freedom in decision-making, retaining the existing workforce, culture and the identity of the company they are investing in, as well as focusing on long-term investment and stable growth was the key factor in choosing our strategic partner," says Denis Sušac, Mono's CEO.
Of the ten divisions, we will work mainly with the digital division, or more precisely, Possehl Digital, that made an investment to acquire a minority stake in Mono. Possehl Digital is Possehl's economically independent division which has set itself the goal of advancing the digital transformation from SMEs for SMEs by entering into or participating in partnerships with digital solutions along the main value chain or important support processes for industrial SMEs.
While we will benefit from increased financial support and the backing of a globally renowned and prosperous group with a remarkable legacy, the authority to make decisions will still remain with our board.
Long-term partnership
We have been building this company for twenty years, investing in our internal projects, our clients and their projects, but most importantly, in our people, as well as the entire community.
Our focus has always been on investing further and fueling Mono's growth. Therefore, both Possehl Digital and the Group as a whole were a logical choice to match our dedication and long-term vision.
"Based on our business results and achievements, we had a range of offers for the full acquisition of the company, which would result in Mono losing its identity and becoming an unrecognizable part of a larger system. This did not fit into our vision for the future," claims Sušac.
Possehl Digital will open a new chapter in the history of Mono.
Through thorough analysis with Mazars and Kovačević Prpić Simeunović, we ensured this partnership advances our goals. It will not only enhance Mono's position in the dynamic, ever-changing, and continuously expanding IT world, but also provide substantial support for our continued growth and development.
"Other than having our autonomy protected, the main reason for choosing Possehl Digital as our partner is the opening of new markets and projects within the Group, as well outside of it. Reaching out to these new markets and challenges simply wouldn't be possible if we were to do it on our own."
Recognized success and perspective
While our main goal has never been about chasing awards or seeking praise, being recognized definitely adds fuel to our already blazing motivation. This partnership not only opens up exciting new possibilities for us, but also serves as a testament to the commendable work we've been doing for the past twenty years.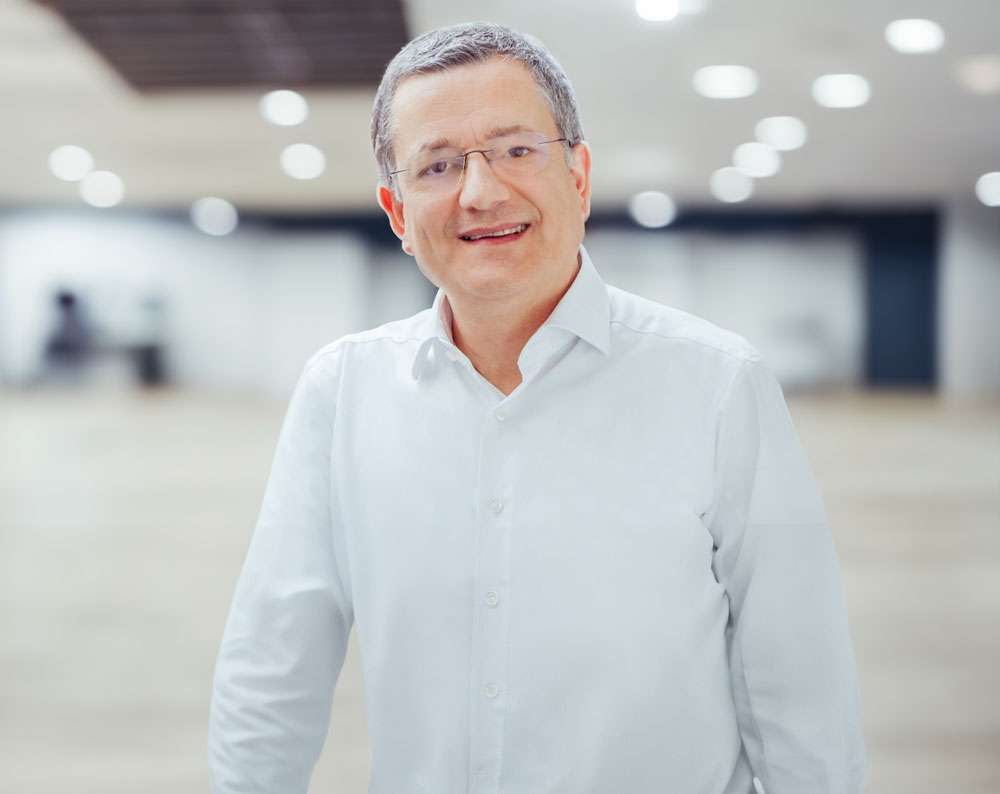 Hermann Schäfer, Managing Director at Possehl Digital
Hermann Schäfer, Managing Director at Possehl Digital, expresses his profound enthusiasm about our strategic alliance, stating, "I am very excited about our strategic partnership with Mono. Together, we want to take the digital transformation in the field of industrial medium-sized companies in Germany to the next level. We see tremendous synergies and have already started the collaboration between the two companies. For us, Mono is one of the most exciting software development companies in the market, with great prospects and opportunities. We are certain that this cooperation will lead for even greater success for both Mono and Possehl Digital."
Possehl Digital actively seeks reliable partners to support their digital growth and overcome the challenges of the digital world. That's why their collaboration with Mono speaks volumes about the value our company brings to the table, as well as their belief in our long-term success and our general approach to work. "Both sides agree on the complete synergy of knowledge and experience in the sphere of IT held by Mono, and the power, capacity and the needs by the Possehl Group member companies," Sušac affirms.
Shared interests for a shared success
To add a bit of romanticism to the entire partnership story, let's dive into another fascinating aspect of our two companies' journey. What makes the Possehl Group unique is that, for the last 100 years, they have been functioning under the Possehl Foundation, its sole shareholder. What is even more interesting about their work is that the Possehl Foundation's goals are aimed at "maintaining the beautiful cityscape, supporting young people, fostering arts and sciences, and relieving the hardship of those in need."
Headquarted in the charming old town of Lübeck ever since the very beginning, both the Group and the Foundation continue to work under the common umbrella of thinking and behaving with an entrepreneurial mindset that embodies their founder's - Emil Possehl's - vision and values. What is more, since 1950, the Foundation has donated about €470 million to cheritable causes.
Emil Possehl once expressed his heartfelt wish for his cherished hometown:
"It is my greatest wish that my beloved hometown, the Free and Hanseatic City of Lübeck, may benefit from the fruits of my life's work."
It's a sentiment that resonates deeply with us, as we can't help but see ourselves in their story, their devotion to their "wonderful hometown," and their focus on something bigger than just the company's growth and its financial success: "We have a lot of common values - focus on persistence and continuity in work, a stable and sustainable business management, long-term planning and flexibility in realizing those plans, as well as contributing to the community."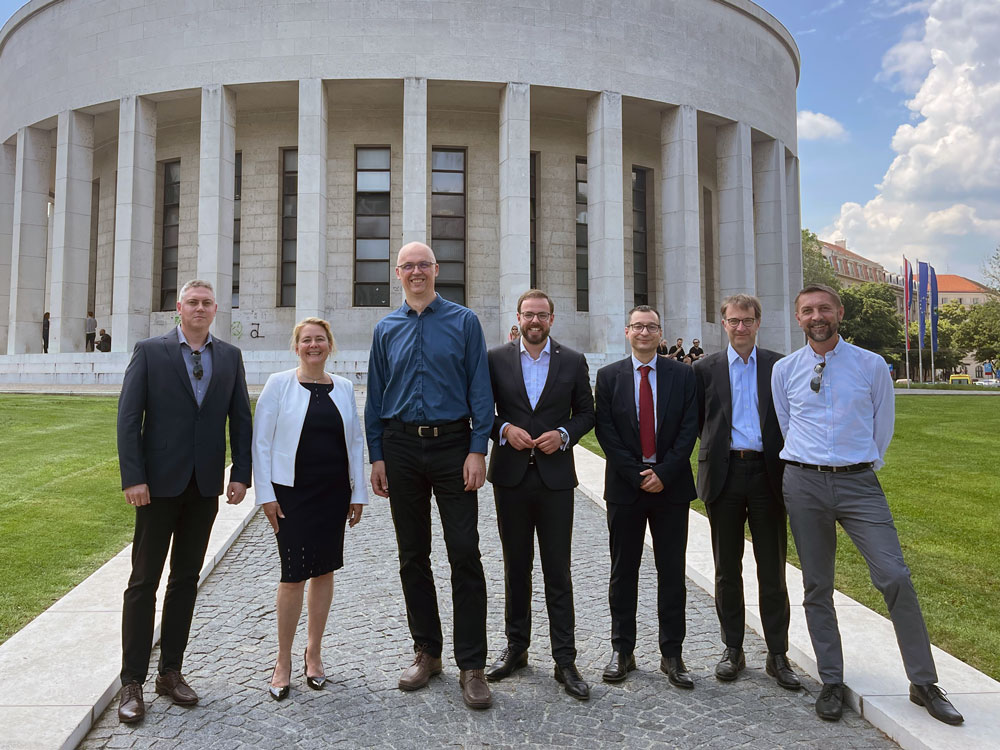 Board members of Possehl Digital, Possehl Group and Mono
We, too, have a deep love for the city that raised us. We have been one of the founders of its IT sector, participated in countless educational programs, and bootstraped its IT business park. Our growth is intertwined with its prosperity, and vice versa. Now, you may wonder how exactly will this partnership impact the city's growth and bring about mutual benefits? The answer is simple.
What it means for the community
Through their strategic support, Possehl Digital and the Group will offer Mono long-term support and development, accelerated growth and the expansion beyond existing boundaries, at the same time allowing us to continue the work we have successfully been doing for two decades.
The result is also improved benefits and working conditions for our existing workforce, but new projects also mean new opportunities for those outside of the company.
It naturally leads to the creation of more job openings, allowing local talent to seize fresh prospects for their careers and professional development.
In addition, this expansion reinforces our dedication to investing in personal growth, lifelong learning, and similar opportunities that we have already been focusing on. We firmly believe in nurturing our employees' skills and knowledge, as well as of those who wish to start their careers in IT, and our partnership with the Possehl Group amplifies our commitment. It enables us to intensify our efforts in providing training programs, mentorship, and other forms of personal and professional enrichment.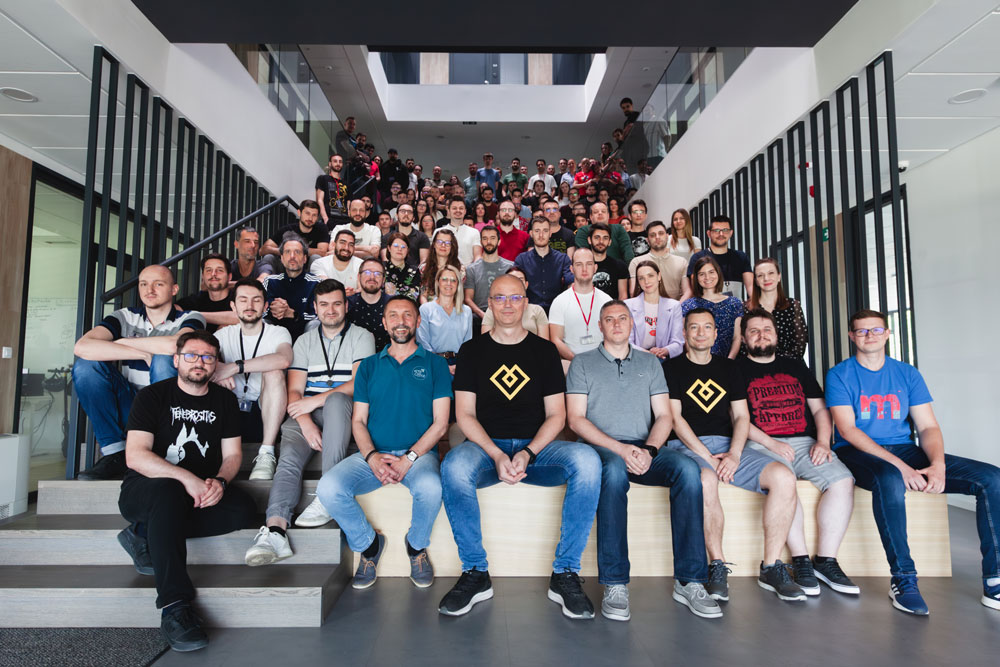 Mono team
We've already said it, and we've meant it - when Mono grows, our community grows with us.
If we're going up, we're taking everybody with us.
---
In the past months, we have talked about furthering our growth and opening new opportunities, we have talked about reaching more milestones and bigger anniversaries - this partnership is the beginning of the realization of these plans.