Importance of photography in web design
Photography in web design is more important than ever. It's not question whether you use it — it's how you use it.
Photography in web design is more important than ever. It's not question whether you use it — it's how you use it. Website photography is a way of sending a visual message to your client, customer or your content consumer.
Kyle Rush's blog about optimization of the Obama campaign is a fine demonstration of how much imagery can boost up marketing results with a "simple" photo on splash page.
Quality and reliability of the website design largely depends on how users percieve it. Good photography and visual design guides the users and communicates an atmosphere around a certain brand or product.
Communication with the designer is the key
If you are not a designer on the project, clearly communicate the design and visualize your ideas with your designer. Ask for feedback and examples of photography that is to be used.
Go through sketches and mockups together. Search examples on stock photo web services (i.e. iStockphoto, DepositPhotos, 123RF etc.) and pick your favorites.
Draw your setup environment for the shooting
The best way to prepare yourself and a photographer (if you decide to hire one) is to create a rough sketch of the photo shooting environment. Try to predict where you want people to sit or stand, i.e. give them a role — a person types on a smartphone, reads a book or shows something on the screen. The key is to create an environment that matches the story of your project. Setup all elements and objects in shooting space - tables, chairs, PC monitors, laptops, books, papers and pencils on the desk, etc.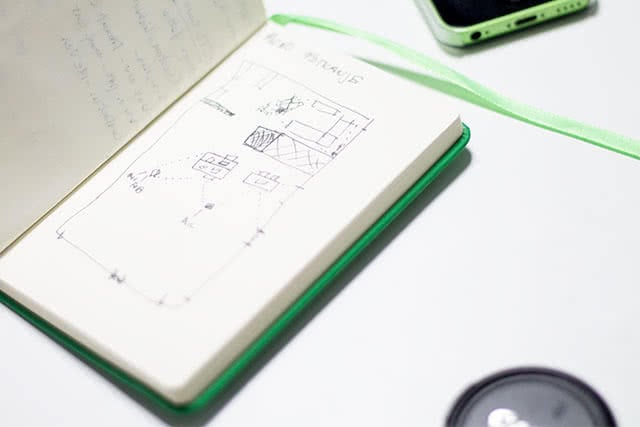 Tell a story
With the environment set up it's time for you to tell a story. If you are limited by time, create timestamps and go! For example, to do a great company photo, the best practice is to re-create a usual working day on steroids. Include a presentation, brainstorming, coding, charts drawing etc. and explain your idea to the team. For easier follow up create a simple synopsis and stick to it all the way while shooting. The end result is a series of photographs that can be connected to a bigger story — your story.
Hire a professional or try DIY style
The best and most recommended option is to hire a pro. If you have a team member who is a semi-pro or an amateur photographer with a good set of lens and a DSLR you can take a walk on the wild side and make your own photos. Professional photographers are already familiar with lightning, they know their camera really well and don't lack in equipment that is too expensive for an amateur. On the other hand, hiring a professional does not guarantee quality of your photo story. Sometimes the story is not very well told by the photographer, sometimes the lightning/colours/tone in the photographs doesn't reflect your brand or product. Those things happen commonly so make sure you communicate your expectations and your brand with the professional down to the detail. Put pros and cons on paper and decide what is best for your project.
Employees are not models
When doing corporate photography have in mind that you are not dealing with professional models. Employees confidence and self-esteem will vary, and it is hard for them to relax and be natural in front of the camera. This is a situation where your in-house photographer can be great for the job. Everyone is familiar with him/her, they are relaxed etc. At the same time, you can have an authority issue. Make your "models" feel confortable and relaxed, but remember - there is a thin line between fun and chaos. Be mindful of that.
Conclusion
Try to avoid stock photography.
Communicate with the designer and the photographer
Think about your brand or product's atmosphere.
Humanize your photographs to enhance your website.