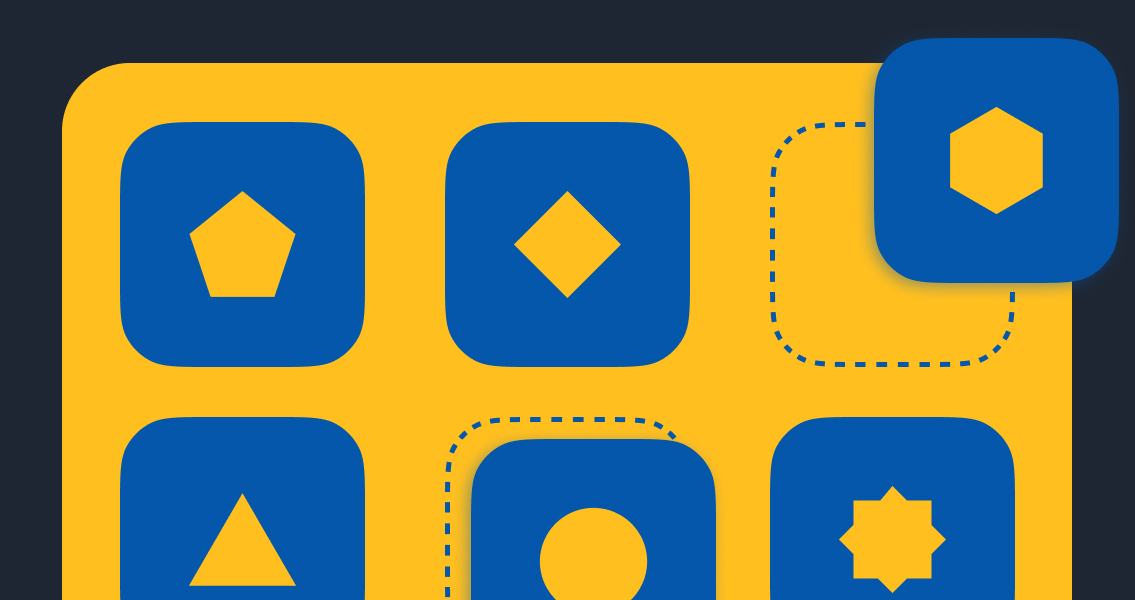 How to Choose: Custom vs Off-the-shelf software
Advice on choosing between custom and off-the-shelf software solutions to optimize your business processes.
In the ever-evolving world of technology, businesses are constantly faced with the challenge of choosing the right software solution to meet their unique needs. Choosing the wrong solution for your business may have a negative impact on your productivity and efficiency, as well as on how much resources you spend.
Every business is a separate entity with its own processes, so there is no one solution that would perfectly fit two different companies. However, generally, there are two common software solutions a company can choose from: custom software and off-the-shelf software solutions.
Each has its own set of advantages and disadvantages. In this blog post, we will explore the pros and cons of both custom software and off-the-shelf software to help you make an informed decision for your business.
---
What is off-the-shelf software?
Off-the-shelf software refers to a software solution that is mass-produced and available for everyone to use, immediately, for a particular price on a monthly or yearly basis, or sometimes even for free. These software usually have a wide range of options and functionalities that can satisfy the needs of many different users.
This is software that fits everyone, or, rather, one that answers to the most common business requirements, either for a particular industry or a more general audience, like Gmail.
Other examples of off-the-shelf software are products like Adobe's Illustrator, the team communications platform Slack or a project management software like Jira. They are used by businesses and individuals all over the world as they provide solutions for shared issues and professional needs.
Pros and cons of off-the-shelf software
Off-the-shelf software is ready for use right away, there is no waiting period as they are already developed. All you need to do is pay for the subscription plan and start using it, or simply sign up. This makes it a better option for startups and companies that do not want to or are currently not in the position to invest large amounts of money in developing their own custom solution.
Other advantages include:
Immediately ready for use. These software solutions are designed to be available to anyone at any time, can be quickly installed and used right after installation. Low initial cost. In comparison to developing your own custom software, the initial investment in an off-the-shelf solution is far smaller.
Community of users. If you encounter a particular problem or just need advice on how to better utilize software functionalities, you can access comments and reviews from other users that can help you use the software.
Customer support. Most software products have available support for their users and try to reply to inquiries as soon as possible. Support can be available through email, contact forms, chat bots or via phone.
Updates and bug fixes. Product teams constantly work on further developing their software, fixing existing issues and adding new features that you can then easily access.
Off-the-shelf software disadvantages:
Additional costs. Initially, you may save money on buying ready-made software, but as your business expands, your team grows and the need for more features arises, the costs can escalate.
Lack of flexibility and scalability. In case you need any additional features and functionalities, you may not be able to get exactly what you need as you cannot affect the development of the software
No control. All software updates and changes happen without your knowledge and can even negatively affect your business and the way you are running your business processes. Another possible scenario is that the software provider stops working on and updating the software you rely on.
No competitive advantage. By using software used by thousands or even millions of others, you eliminate the possibility of having a unique and customized solution that sets you apart from competitors.
Compatibility issues. Your usage of a particular outside software solution may be limited or inefficient as the software may be incompatible with other software, devices or operating systems used within your organization.
What is custom software development?
While off-the-shelf software is a pre-packaged solution that is ready to use out of the box, custom software is tailored to the specific needs and requirements of a business and developed according to their specifications and instructions, providing a more personalized and efficient solution that can provide a competitive edge.
A customized solution can be built by your in-house team, or, in case you don't have one, you can outsource its development to an outside software development company. It can involve the creation of a completely new product from scratch, or an update and extension of features and functionalities of an already existing software.
Custom software examples include healthcare or real estate management software, enterprise resource planning (ERP) systems or customer relationship management (CRM) systems. The possibilities are endless and a single software can be perfectly tailored to meet the specific needs of any organization or individual requiring such a solution.
Pros and cons of custom software development
Disadvantages encountered with off-the-shelf solutions can be easily avoided if you decide to build your own bespoke solution. You can easily set the exact requirements needed for your business to function well and have software working just for your unique needs.
However, as this is a long process that requires a larger investment, you need to take all of its advantages, as well as its disadvantages into account before finally deciding on going custom.
Custom software advantages include:
Ideal solution. A tailored solution delivers a perfect fit for your company's unique needs and processes, offering all essential features without any redundant ones.
Competitive advantage. With a customized solution, you have a unique advantage over others, which can be further improved as per your requirements.
Profitable in the long run. Though the initial cost of developing bespoke software may be higher, it eliminates the need for subscription fees and other costs associated with updates in the future.
Scalability and flexibility. As your business evolves, your software can be updated to match its growing potential, ensuring maximum functionality.
Unrestricted control. You have full autonomy over your software and the ability to make modifications as and when needed, without any limitations.
Dedicated development team. A dedicated team of developers is at your disposal, providing prompt answers to your questions, fixing any issues, and guiding you through the software's use. No need to rely on customer support.
Improved security. By having full control and support, the likelihood of external threats to your data or business is significantly diminished, ensuring enhanced protection.
Custom software disadvantages:
Large initial investment. Developing tailored software requires a significant investment, as it involves a team of specialists who work through various stages to deliver a functional solution.
Long development time. If you require a solution you can access and use immediately, going with a custom solution will not be a good choice for your business. Developing a software solution, especially if you are starting from scratch, requires months.
Maintenance. Once your software is built, you will still require constant maintenance if you wish to continue having a functional product throughout the years.
How to choose the right option for your business?
Each of these options offers certain benefits for your business. Consider the unique benefits each option provides to determine the best fit for your business requirements. What you need to take into account is both your current situation and your current business requirements, as well as those you will have in the near future.
The main questions you need to ask yourself are the following:
How much control do I want to have over the software I use, its development, maintenance and updating?
How much resources am I able to invest in the software solution that is required to run my business processes now? How much will I be able to invest in the future?
What are my precise business needs? Do I have some unique requirements that cannot be satisfied by an existing software solution?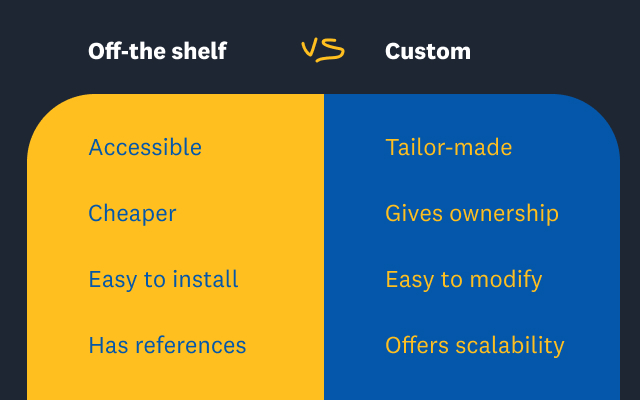 When you should opt for off-the-shelf software:
You need a comprehensive solution that is available to you right now.
You do not have the necessary resources to invest in the development of a custom solution.
You do not want to be involved in developing the updates and further scaling the built solution.
Security is not your top priority.
When you should opt for custom software:
Your business needs are unique, complex and specific to your organization, which is why no available software works for you.
Your processes are prone to change and your business is growing, or you plan on growing it.
You work with personalized data and need an extra level of security to protect it, your company and your customers.
You wish to be involved and have full control over all the future updates and changes to software, having them respond to the changes within your organization and your unique requirements.
You are using different software to run your business operations and would rather have them joined in a single solution, saving time and money.
Conclusion
Each business should carefully analyze what they need for their processes to run as smoothly as possible, while thinking about their future and future plans. While an off-the-shelf solution is easily available and more affordable at the beginning, bespoke software solutions grow as your business grows, which makes it a better long-term solution, for those who can afford it.
If you do end up choosing a custom solution, Mono can help guide you along the way of building a software solution that will grow your business. If you are not sure which solution works better for your current situation, contact us either way and we will give you expert advice on which direction to move in.